You Should Have Stayed Home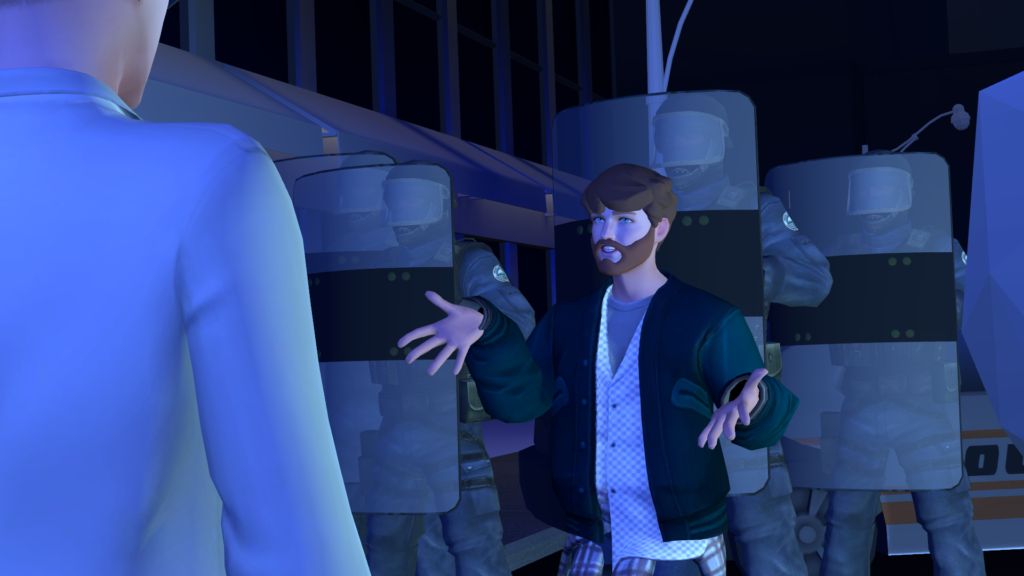 You Should Have Stayed Home
Written and performed in VR by Tommy Taylor
---
Showtimes
Wednesday June 8, 7:00pm ET
Thursday June 9, 7:00pm ET
Friday June 10, 7:00pm ET (livestream)
Saturday June 11, 7:00pm ET
Venue
In VR (online) and in-person viewing at the Film & Media Lab in the Isabel Bader Centre for the Performing Arts
Livestream on Friday June 10th
ASL Interpreted. Captions available. More info
Buy Tickets
Tickets are pay-what-you-choose
$15/ $25 / $50
Description
BETA— An auto-biographical re-telling of the frightening events that took place on the streets of Toronto during the 2010 G20 summit protests, which saw the largest mass arrest in Canadian history and resulted in a $14.6M class action lawsuit.
We join Tommy Taylor as he recounts his journey attending his first ever protest in the "Free Speech Zone" at Queen's Park before being swept up in a mass arrest and detained at the Eastern Avenue Detention Centre.
Originally a stage play that toured Canada in 2012, You Should Have Stayed Home now occurs in virtual reality and is presented in three modes:
In-person audiences at The Isabel Bader Centre for the Performing Arts can watch Tommy Taylor perform in-person, while the action unfolds in VR on screen;
10 audience members can join the performance in VR using an internet-connected VR headset (Quest, Vive, etc.); and
On Friday June 10, a livestream will combine in-person and VR footage to be experienced remotely on-screen.
Directed by Michael Wheeler and performed by actor and playwright Tommy Taylor, the play presents a virtual adaptation of Tommy's original Facebook note, How I Got Arrested and Abused at the G20 in Toronto, which has been translated into seven languages and appeared in twenty-one countries. Today, Tommy's story takes on urgent new meaning in the context of the ever-rising tensions and public dialogue on police violence, protest, and institutional reform.
* Please note this show is not compatible with the Quest 1 VR Headset.
Credits
Tommy Taylor – Playwright and Performer
Michael Wheeler – Director
Laura Levin – Dramaturg
Jayna Mees – Assistant Dramaturg and Research Assistant
Justine Katarenchuk – Stage and Production Manager
Anna Villeneuve – Associate Producer and VR Chat Cinematographer (IRL Presentation)
Beth Kates – VR Theatre Consultant / Virtual Lighting Designer
David Mesiha – Virtual Sound Designer
Seyed Tabatabaei – Lead VR Developer
Anthony Aloisio – UDON Developer
Rea Goldson – Avatar Designer
Flora Diep – Student Developer
Michaelah Wales – Student Developer
Zarrin Tasnim – Student Developer
Content Warnings
You Should Have Stayed Home contains:
-Images of police brutality and physical violence
-Descriptions of physical and emotional abuse
-Homophobic remarks
-Sexist remarks
-References to ableist remarks
-References to racial profiling
-Temporary use of colourful flashing lights
-Temporary exposure to confined spaces
-Possibility of experiencing VR motion sickness
Acknowledgements
Tommy Taylor acknowledges support from the Ontario Arts Council Recommender Grant for Theatre Creators by way of Volcano Theatre