By Freya Björg Olafson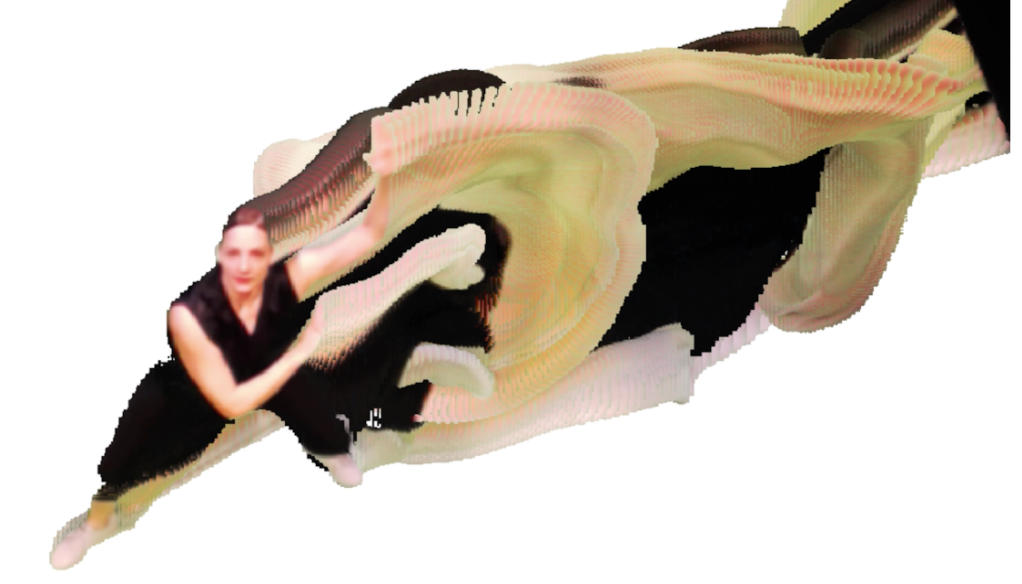 I make work 'about' the internet and technology most often for audiences who sit in theatres, or visit galleries and media art festivals. In November 2019 I premiered a sixty-minute intermedia performance called MÆ-Motion Aftereffect. The work addresses the impact of emerging consumer technologies associated with AR – Augmented Reality, VR – Virtual Reality, MR – Mixed Reality, XR – Extended Reality and 360° video.
Monologues sourced from the internet provide the infrastructure for the work; an in-ear monitor feeds the monologues to me onstage which challenges me to listen and speak simultaneously. This dual action of listening and speaking enables me to embody a state of presence that references data streaming, live processing, and gaming. As a performer I become a conduit, medium, or interface, broadcasting edited monologues from the internet to the audience. The action of performing the work becomes like playing a video or VR game.
Above image: video still of Freya Björg Olafson in MÆ- Motion Aftereffect
Left Image: Freya Björg Olafson in MÆ- Motion Aftereffect, photo: Josh Dookhie
As I write this description of MÆ-Motion Aftereffect, I realize it is technically constructed and ready for me to turn a camera feed on and stream live to the internet now that Covid-19 has impeded sharing work in person. My studio floor in Winnipeg is still painted green and the web camera is drilled into the ceiling. I could keep this process simple and direct, but like this text, there is a good chance I won't, as I can't help but be curious to traverse guidelines / parameters, and boundaries. My creative process is simultaneously interstitial and holistic, my interests are often on the interrelationship between methods of communication. Reflecting on Marshall McLuhan's proposition 'the medium is the message' wherein he proposes the way information is sent and received is more essential than the information contained within the communication; I must consider the avenue and manner of sharing work online a fundamental step in the adaptation process. Inevitably, the tension I create on stage between the perception of the 'real' and the 'virtual' shifts significantly when MÆ-Motion Aftereffect goes online (ie: virtual) and is viewed through a computer monitor, cell phone, or tablet rendering images to a flat 2D screen. This tension between the binary, divisive perception of 'real' and 'virtual' demands thoughtful reflection to ensure a meaningful transfer of MÆ-Motion Aftereffect from stage to the internet.

MÆ – Motion Aftereffect references two distinct artist movements / collectives that proposed visionary ideas through manifestos calling for transformation of art production and consideration of how art is shared with the public. I am driven to consider how these manifestos / movements are situated today: Can they inform understandings of artwork that is emerging during this time? How might these manifestos inform how I situate / contextualize MÆ – Motion Aftereffect now? The first Manifesto appears at the beginning of MÆ – Motion Aftereffect with a video work featuring my rewritten version of 'Lettuce Manifesto' (LINK see Page 19, created by Fluxus affiliated artist Al Hansen in 1970). In 2005 I witnessed Fluxus affiliated artist Geoffrey Hendricks perform 'Lettuce Manifesto' at the University of Manitoba Art Barn, this influential experience shifted my understanding of performance. In my video the manifesto is spoken by a computer text-to-speech tool alongside a sound score by Emma Hendrix. The video features found screen captures of in-game footage by VR / 360 video and AR users (see video clip or image below). In the manifesto, I convert Hansen's 'Lettuce' (LET US) to 'V R' (WE ARE) in order to shift meaning from a fight for permission, 'Let us', to the clear agency to enact, 'We are'. Below is an excerpt of Hansen's original text alongside my adaptation:
'Lettuce Manifesto" – excerpt from Al Hansen
Lettuce bring art back into life
Lettuce forget theaters and perform in the world
Lettuce go over and around the real-estate men
Lettuce move out into streets, subways and luncheonettes
Lettuce perform in life with no warnings
Lettuce create repertory companies on shoestrings
Lettuce perform on roofs, in airplanes, on ferryboats and in trees
Lettuce combine life and art, overlap and interpenetrate them
Lettuce think theater as a painting or collage in time and space
Lettuce think architectural works as dances…
"V R Commodity" – excerpt from Olafson's re-write
V R bringing art back into life
V R forgetting theaters and performing in worlds
V R going over and around the real-estate moguls
V R moving into representations of streets, subways and luncheonettes
V R performing life with no warnings
V R creating repertory companies on shoestrings
V R performing on roofs, in airplanes, on ferryboats and in trees
V R combining life and art, overlapping and interpenetrating them
V R thinking of theater as a painting or collage in time and space
V R thinking architectural works as dances…
In the latter half of his text, Hansen's 1970s manifesto makes a political statement about the US involvement with the Vietnam War. Conversely, in my iteration the political is embedded in the title, 'V R Commodity'. My intention is to center the medium of communication (VR). When I read 'V R Commodity' I hear the developer and user voices chant "We are" which underscores the embedded or embodied enthusiasm of those working with VR/AR/360 video. These technologies shift how time, space, and viewer communication is both engaged and understood. Presently, VR developers
proceed with minimal legislation or guidelines controlling the production of content for VR, a medium through its immersive qualities has the potential to be a manipulative and deceptive tool. These concerns led the European Union to fund the development of a 'Code of Ethics' for VR production (LINK for more info).
Today the propositions of both Hansen's Manifesto and my iteration offer new resonance, when I consider current possibilities for open air performances, outdoor screenings, the ease of motion capture in order to perform through avatars in virtual spaces as well as AR providing overlays on everyday life. Many of these options derive from the current necessity to 'forget theatres' as the primary site for performance events.
Consider embracing '……forget theatres' as an experience which might shift understanding and values in regards to both artistic production and the market. Fluxus called for blending of art and life as well as actively endorsed the creation of art free from capitalist structures that commodify objects and performances. Fluxus proposed a shift to revalue experience rather than product, and destabilized definitions of forms through exploration of the peripheries and boundaries of artistic 'disciplines' through the articulation of the term 'intermedia'. Fluxus artist Dick Higgins left empty bubbles with question marks in his 'Intermedia Chart', perhaps to be populated and / or adjusted according to the times. What might you write in those circles today?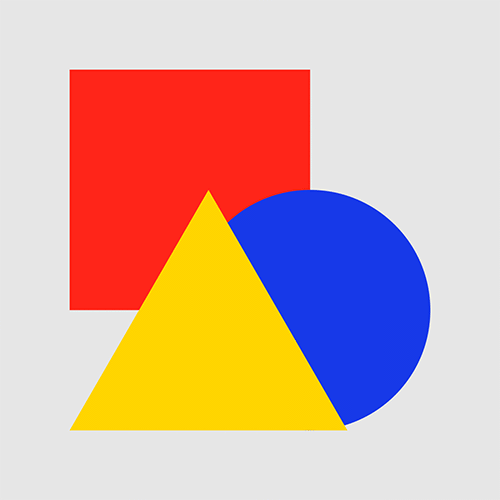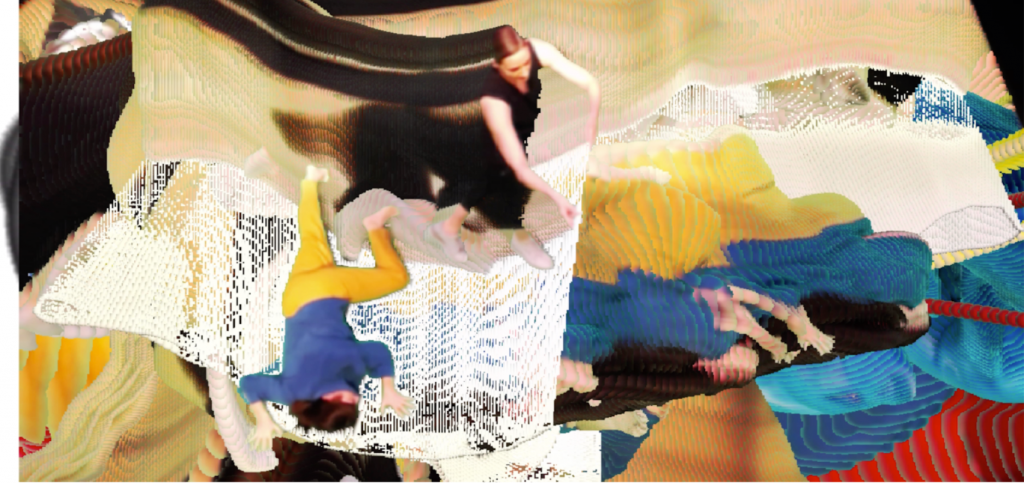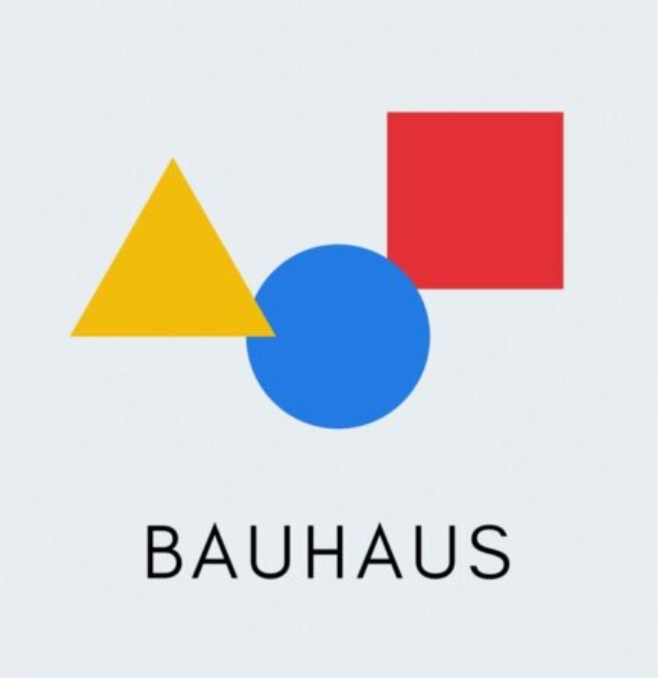 The second Manifesto that informs MÆ-Motion Aftereffect was written in 2011 by Manifest.AR, an international artists' collective working with augmented reality as interventionist public art. I have had the pleasure of collaborating with one of the members, Will Pappenheimer, on an AR project LINK. The following quote from Manifest.AR 'AR Art Manifesto' is projected on screen prefacing the final scene of MÆ-Motion Aftereffect: "In the 21st Century, Screens are no longer Borders. Cameras are no longer Memories. With AR the Virtual augments and enhances the Real, setting the Material World in a dialogue with Space and Time".Throughout this scene the web camera is a live feed and does not record, echoing Manifest.AR's 'cameras are no longer memories'. Through deliberate use of the webcamera, greenscreen floor / 'co-presence' Lise McMillan in a greenscreen suit, a 3D avatar animated with motion capture data, and a distinct visual / virtual effect in this closing scene 'the Virtual augments and enhances the Real' onstage. The live video feed is manipulated through the game development software 'Unity' which generates an accidental effect that freezes video frames and continuously prints new frames atop the previous frame (see image above). As a result movement onstage creates live painted trails. This visual effect references Brody Condon's modified video game work 'Adam Killer' created in 1999 (Low Res Video Clip Link) as well as a common Windows XP system error (LINK 1 / LINK 2 / LINK 3) that generates the same painting effect using the computer's search windows and cursors as paintbrush.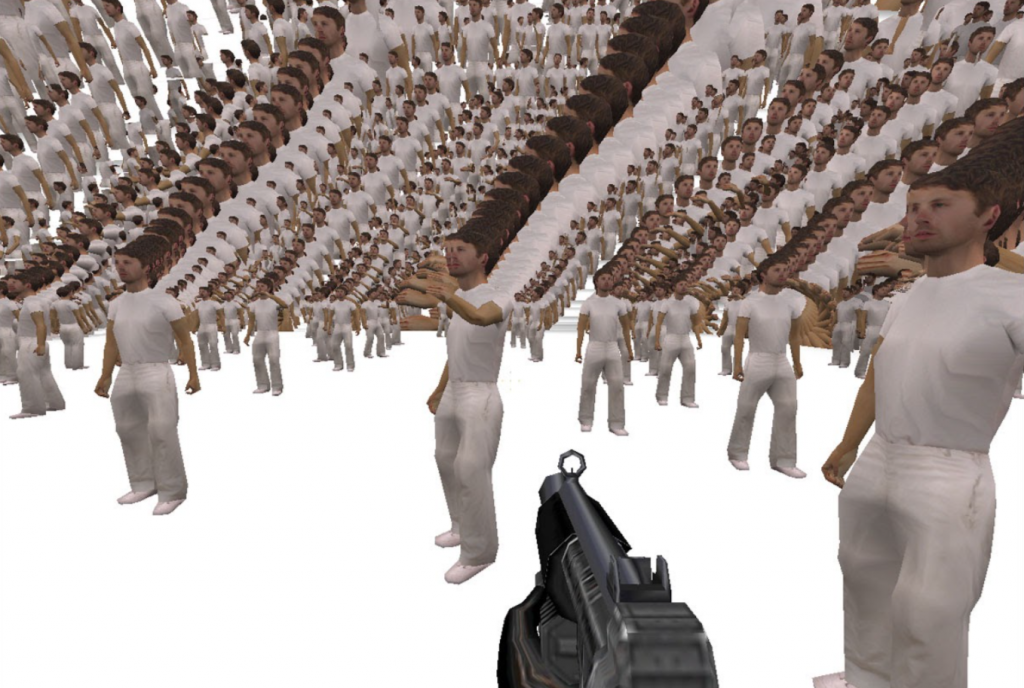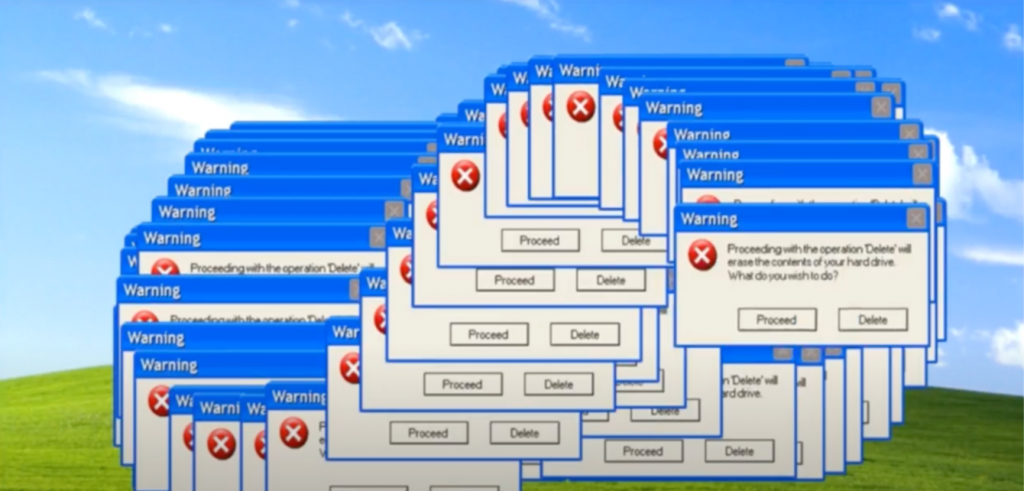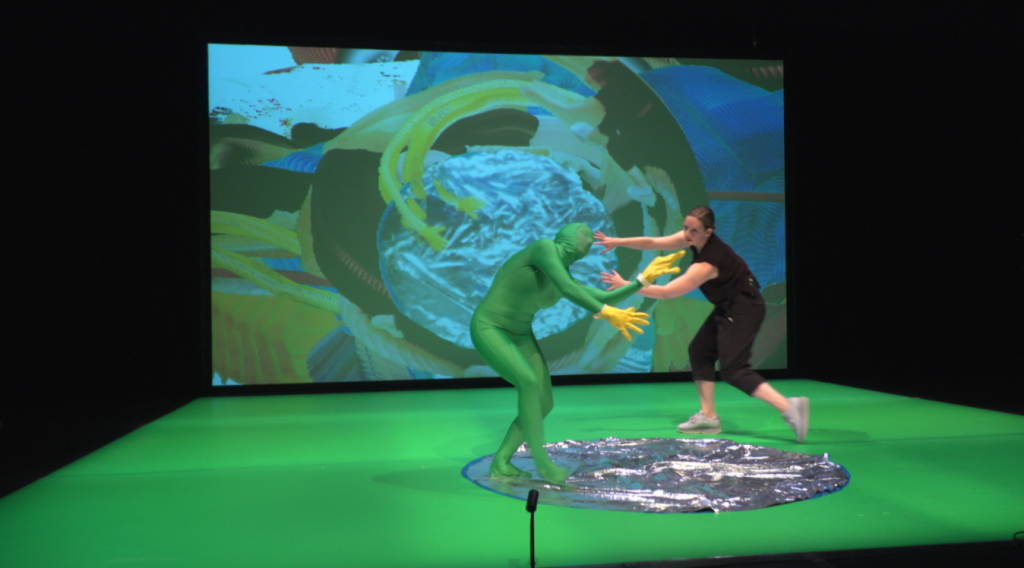 The formal composition and objects used in the closing scene / duet of MÆ – Motion Aftereffect loosely reference the primary colored shapes that became signature to the Bauhaus in Germany as well as the work of associated artist Oskar Schlemmer, who augmented and extended the human form through sculptural costumes and formal choreographic explorations of 'space' and 'time' ( video link for image above). The everyday / readymade objects used in this section of MÆ: a white broomstick, red massage balls, yellow tennis balls, a blue round plastic tablecloth, yellow kitchen cleaning gloves, and primary colored clothing are hybrid, situated somewhere between the formal shapes of the Bauhaus and the everyday objects employed by Fluxus affiliated artists. When these objects are animated onstage MÆ – Motion Aftereffect engages the 'Material World in a dialogue with Space and Time.'
MÆ-Motion Aftereffect concludes with an overlay of the Windows XP 2000s 'Solitaire' computer game ending / 1hr LINK (You could make the screen grab below a clickable link to go to one of these videos) which visualizes each stack of cards falling to the bottom of the screen – creating the same digital painting effect before sliding out of sight. I am left, still wondering, how to translate the interstitial subtleties of this work for a virtual audience. Excited and curious, I am enamored with the internet, connectivity, and the possibilities technology provides to destabilize understandings of bodily experience and communication. I have yet to win the game of solitaire and witness those digital pixelated cards falling as a symbolic pinnacle of achievement. I am in it, as a player in the game, in one moment sitting back plotting moves, in the next, actively witnessing change, engaging in learning, absorbing and reconsidering my position in the now in order to calculate effective action rather than reaction.
---
LINKS TO SHARE
CREDITS for all artists / collaborators, residencies & funders for MÆ – Motion Aftereffect – LINK
Ghostcatching (1999) Bill T. Jones,Paul Kaiser, and Shelley Eshkar https://vimeo.com/126159481
Harren, Natilee. Fluxus Forms : Scores, Multiples, and the Eternal Network, University of Chicago Press, 2020. LINK
http://www.virtualfluxus.org/ – a site envisioned by Bibbe Hansen and Patrick Lichty as a metasite for their work in expanding the principles of FLUXUS into virtual and augmented worlds and to chronicle the works of as many colleagues as possible doing the same. This includes Hansen and Lichty's work with performance collective: Second Front.
Jacolby Satterwhite LINK
A live streamed performance from March 28th, available as a recording LINKLocked down but not shut down. NewfrontEars (alias Alex Large und Liane Sommers) and the Berlin-based drag artist Oozing Gloop are apart (Berlin and UK) but are still pushing through the obstacles and poor bandwidth to find new collective modes for performance and participation. Together in isolation, alive in the livestream. This is a phantasmagoria of failed AI content, copyright freedom, live drag, dough and meditation. "We are still here, we are all still present."
---
Freya Björg Olafson is an intermedia artist who works with video, audio, animation, motion capture, AR / VR, painting, and performance. Her praxis engages with identity and the body, as informed by technology and the Internet. Olafson's work has been exhibited and performed internationally at the Bauhaus Archiv (Berlin), SECCA – SouthEastern Center for Contemporary Art (North Carolina), LUDWIG museum (Budapest), and The National Arts Center (Ottawa). Olafson has benefitted from residencies, most notably through EMPAC – Experimental Media & Performing Arts Center (New York), Oboro (Montreal), and Counterpulse (San Francisco). Olafson holds an MFA in New Media from the Transart Institute / Donau Universität.Olafson joined the Department of Dance at York University as an Assistant Professor in July 2017. https://www.freyaolafson.com/