Join us every day before the show
Pollinator Playground
Saturday, June 12
12:00pm – 2:00pm EDT
Closing Night Party!
Sunday, June 13
8:00pm – 10:00pm EDT
How to Gather at FOLDA
You're invited to explore and interact with our custom-built FOLDA Gather spaces, each inspired by FOLDA's home at the Isabel Bader Centre for the Performing Arts at Queen's University in Kingston, Ontario.
The Lobby – Arrive and head into the bar to enjoy the view.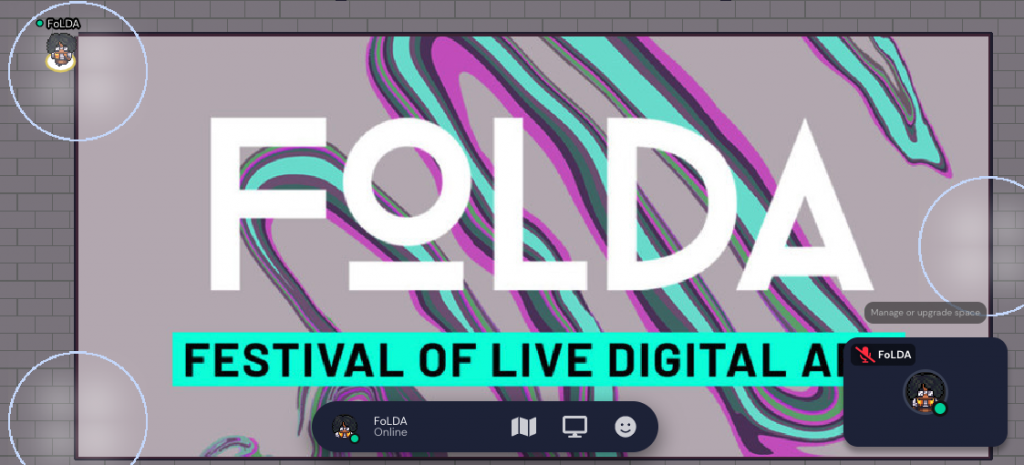 Performance Hall – Go inside the Isabel Theatre for a behind-the-scenes tour of impossible views.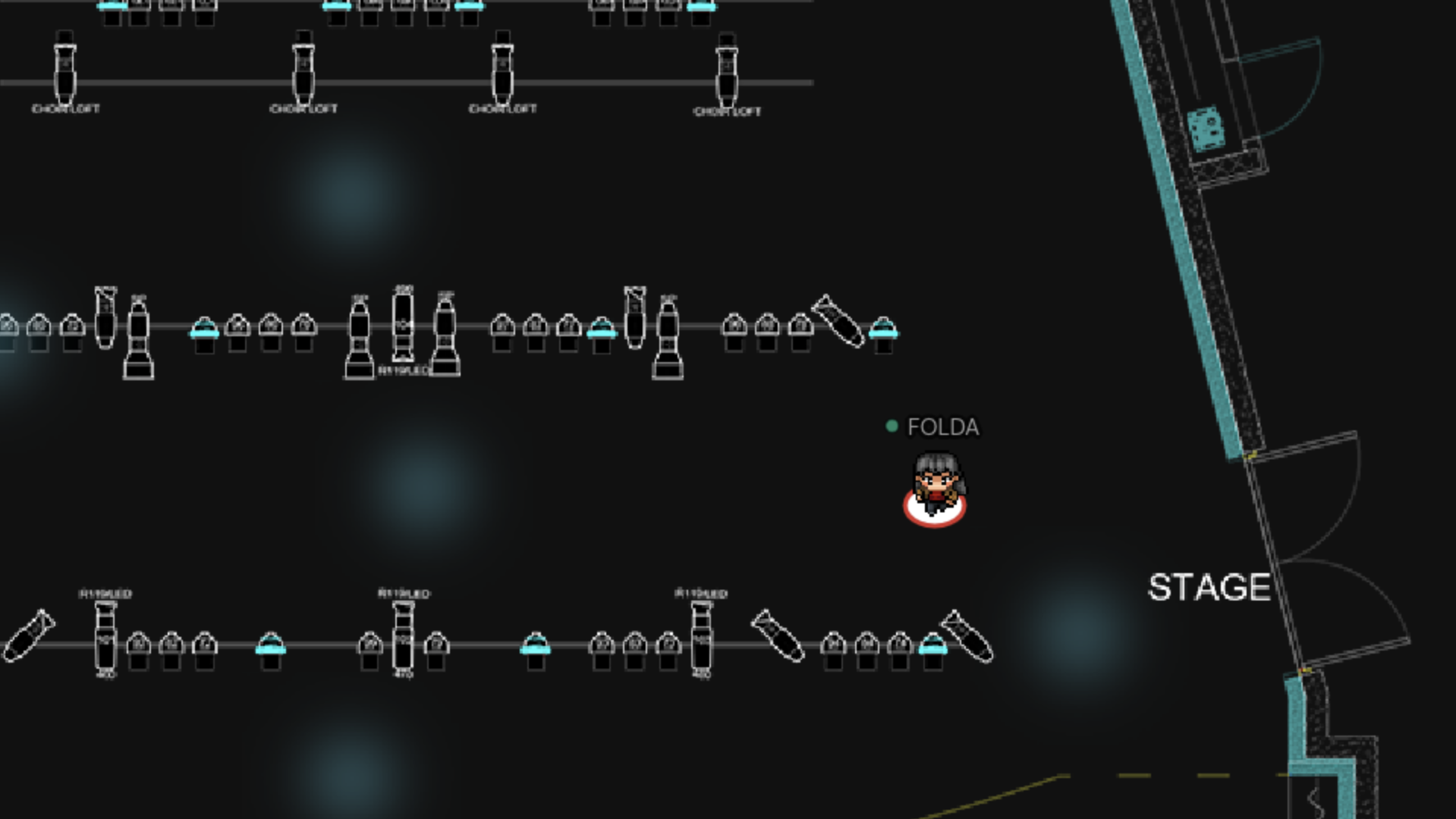 Digital Artifacts Room – FOLDA's past and present combine in this playful prototype space.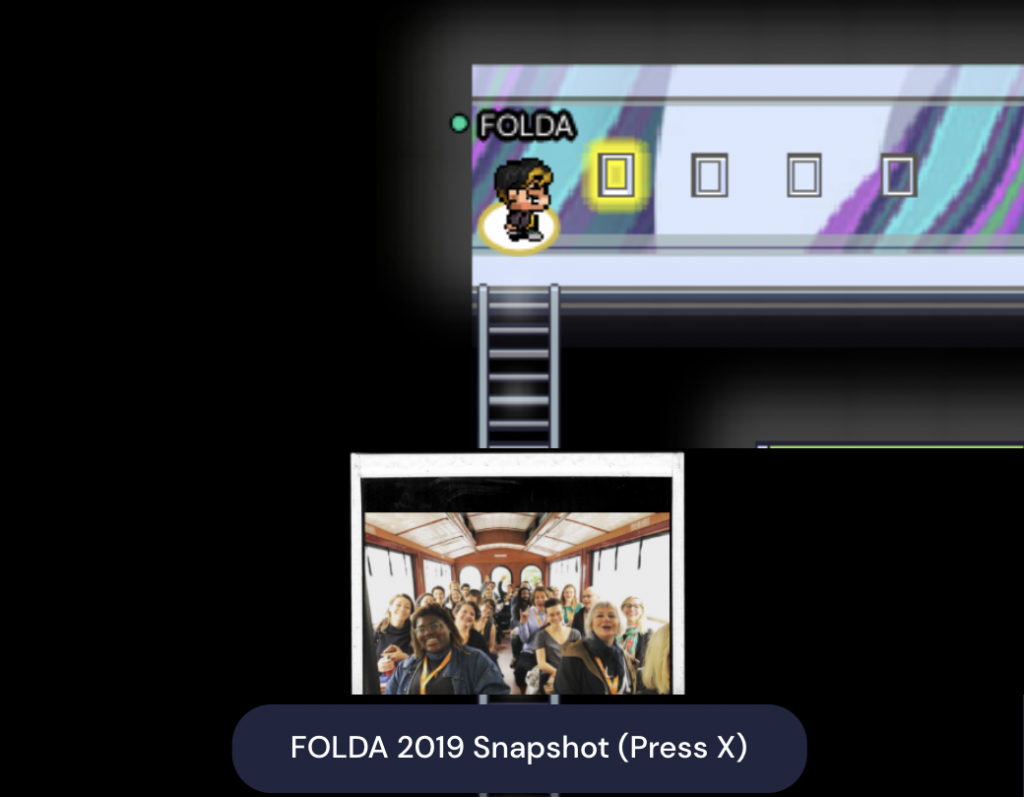 Camp FOLDA – Meet your friends outside for a swim, take a canoe ride, and cozy up to a campfire in the woods.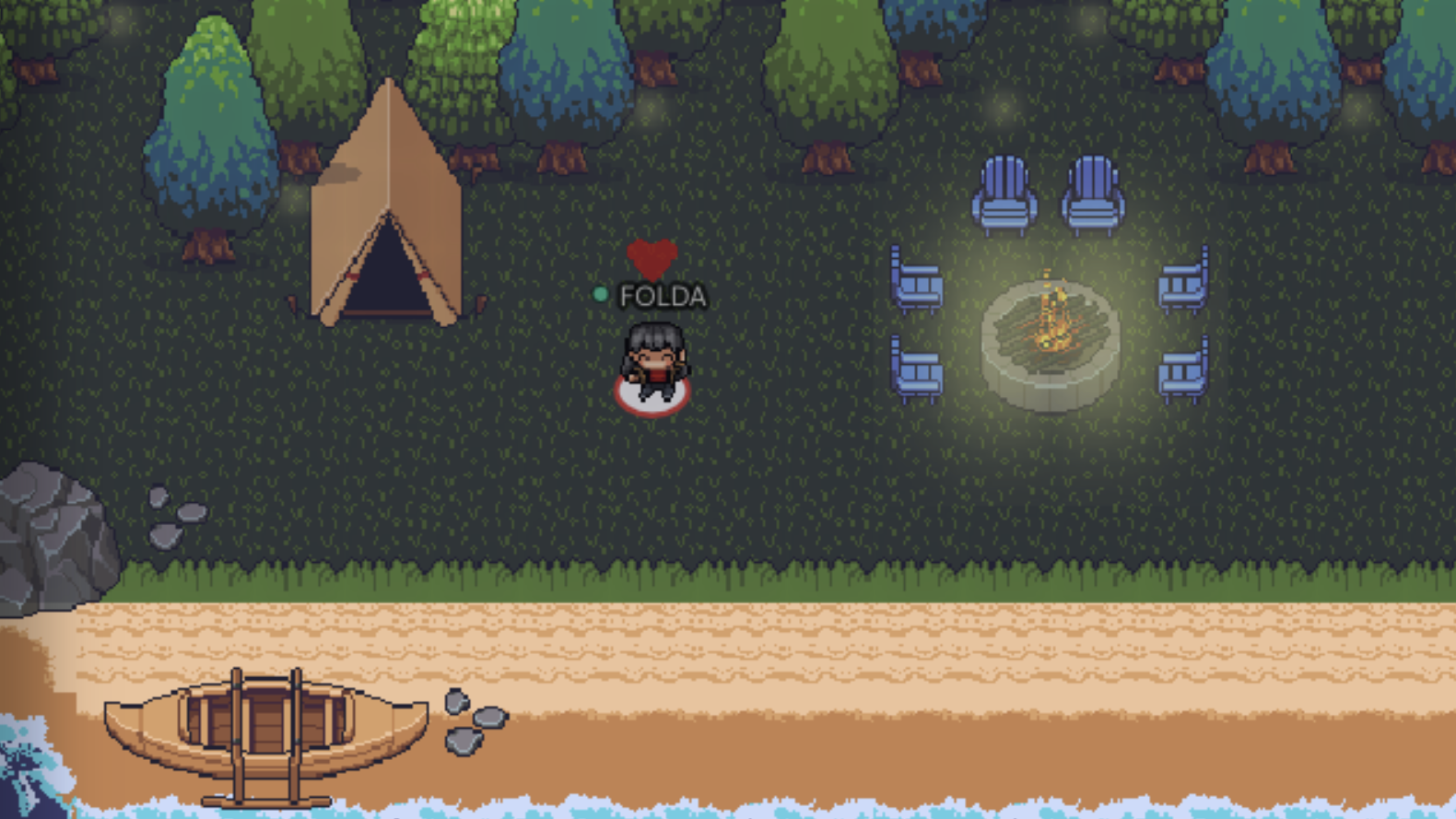 FOLDA's Gather spaces will be open during the following times, and due to limited capacity, we recommend getting your free ticket now for the Closing Party!
June 9: 8-10pm EST (Gather Runaround)
June 10: 7-10pm EST
June 11: 6-8pm EST
June 12: 12pm-11pm EST
June 13: 8-10pm EST (Closing Party)
Festival artists and audience members can join in a free, casual Gather Runaround on Wednesday June 9th from 8-10pm EST to spend some time getting to know the platform and exploring our festival spaces: The Lobby, Performance Hall, Digital Artifacts Room, and Camp FOLDA.
FOLDA staff will be present during the runaround to help you troubleshoot any technical issues or give you a tour.
These Gather spaces were designed and built by FOLDA's Associate Producers Rebecca Ballarin and Laurel Green. They are constantly evolving, as is our learning about Gather! If you have any observations or feedback to share, please email laurel@spiderwebshow.ca
What is Gather?
Gather is a web-browser based virtual platform that combines video-calling with a 2D map that you explore as an avatar (a figure that you choose to represent you). Unlike Zoom, Gather allows you to move around and start your own conversations. When you get close to someone else in the space, your video and audio will connect and you can say hello. When you walk away from them, audio/video will turn off. You can mute yourself and turn your camera on and off at any time.
Gather requires a computer (laptop or desktop) and a Chrome or Firefox browser (not Safari). We recommend wearing headphones. Please note that Gather is not supported in mobile (phone/tablet).
TOP GATHER TIPS!
If an object glows, or a message pops up at the bottom of your screen press x to interact with the object. Press x again to close the pop-up window.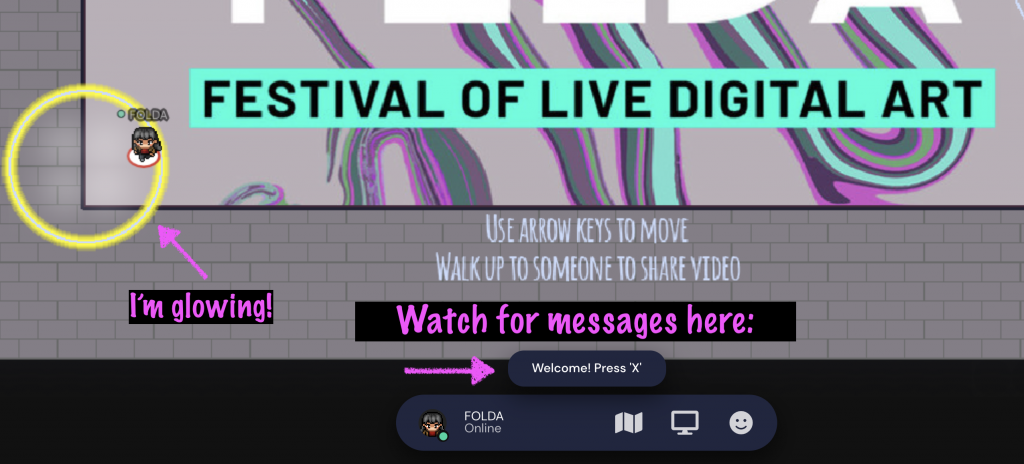 To see a map of the space you are currently in (including where the exit can be found!) open your Mini Map from the menu at the bottom of your screen.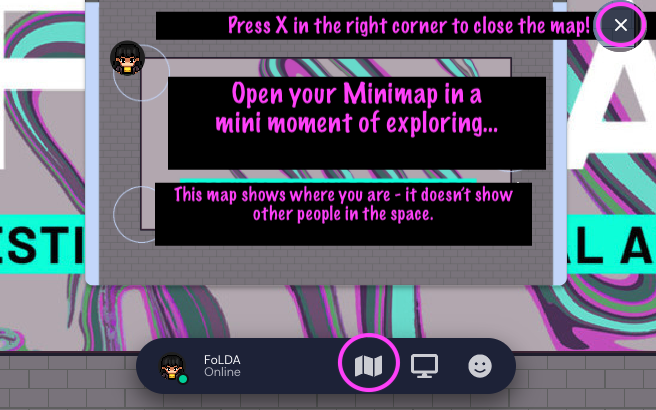 If you get stuck behind someone else, hold down 'G' to become a Ghost and move through them.

To find someone in the space, click on their name in the participant list from the left hand side toolbar, and select Locate. Gather will draw a line that you can follow through the space to find them.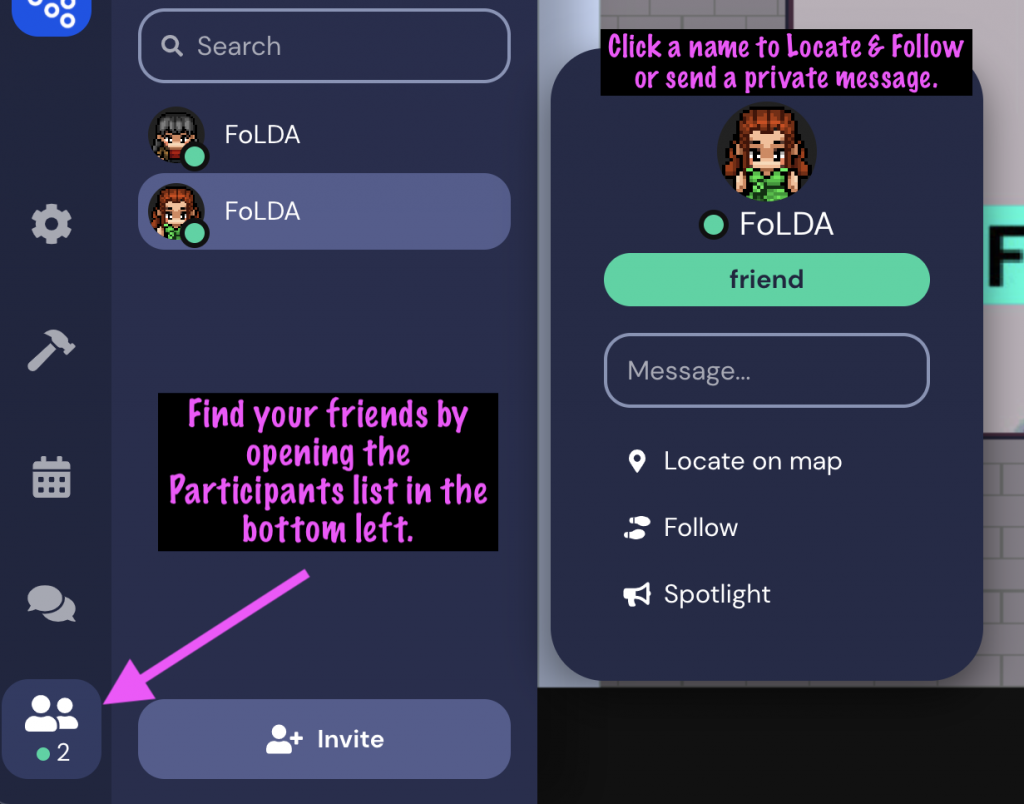 And most importantly, press Z to dance and celebrate!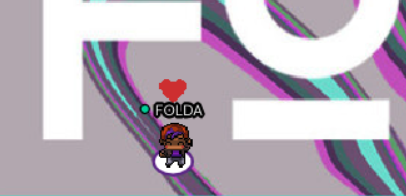 How to Join
Open the FOLDA Gather Link in your browser (Chrome or Firefox)
Type in your FIRST and LAST name. Add your pronouns to your 'name tag' as you like (She, They, Him etc.)
Choose an Avatar from the menu of characters.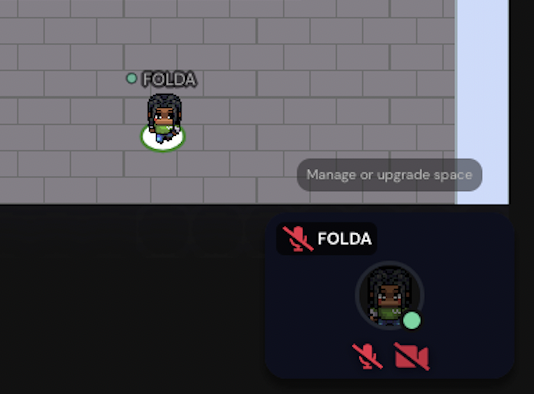 Enable your camera and audio (microphone and speaker) settings. We recommend wearing headphones. If you have any trouble, check out this troubleshooting guide. To Mute/Unmute and turn your camera on and off click the icons on your video square at the bottom right corner of your Gather screen.
Once inside the Space, use your arrow keys to move left and right, up and down.
When you come into contact with another person, your video and audio will switch on so you can talk to each other.
The menu bar is located on the left-hand side of your screen, and here you can find:
Chat – click on the icon that looks like two speech bubbles. You can message everyone in the space, or send a private message to someone.
Guest List – click on the icon that looks like the outline of two people. If you click on someone's name, you can select Locate and Gather will draw a line that you can follow through the space to find them!
If you get stuck simply exit your browser window, and click the link again to reload the page and come back in.

Ready to leave? Click the grapes in the top left corner of your Gather screen and select "Go Home"
Accessibility Features on Gather
Gather is a virtual world that allows participants to move their avatars around to interact via chat or video with those nearby. There is also a text chat function.
Gather relies on a visual map and the ability to move through space using the arrow keys and access menu items by clicking the trackpad/mouse on your computer. Gather does not afford moving your avatar by voice.
Screen readers tested in Gather provided no verbal feedback regarding the avatars location nor what virtual spaces or other avatars were nearby. It was possible to navigate to the chat and "chat to all" to facilitate wayfinding or asking for help, but chatting with a specific user in the space was not possible.
You are able to have your avatar automatically follow another to facilitate wayfinding. If you would like to use this function with either a Festival staff member or someone attending events with you, please let us know by contacting clayton@spiderwebshow.ca
Gather does not support captioning. Interactions with other attendees happen through video chat and chat box text.
To make an appointment for a private tour the Gather space please contact rebecca@spiderwebshow.ca
Gather's help center can be found here.
Privacy: Gather does its best to make sure your data is safe and that your privacy is respected. To read Gather's privacy statement visit: https://gather.town/privacy-policy
To contact Gather's team with questions about their platform beyond FoLDA's pervue please contact: support@gather.town