Digital Art Run Project Information
On June 10th, the opening day of FOLDA (Festival of Live Digital Art), participants across Canada and beyond connected through Strava to virtually track their run or walk and had their activity data used as the foundation of the creation of new digital art.
Two Digital Artists will use the Activity Day data to create original work. Their work is below along with all of the participants of the project.
Created by Stacey Norton
Featured Digital Artist: Enna Kim and Dekel Chui
Run Project Producers: Kim Krezonoski, Michelle Krezonoski, Melissa Farmer
---
Data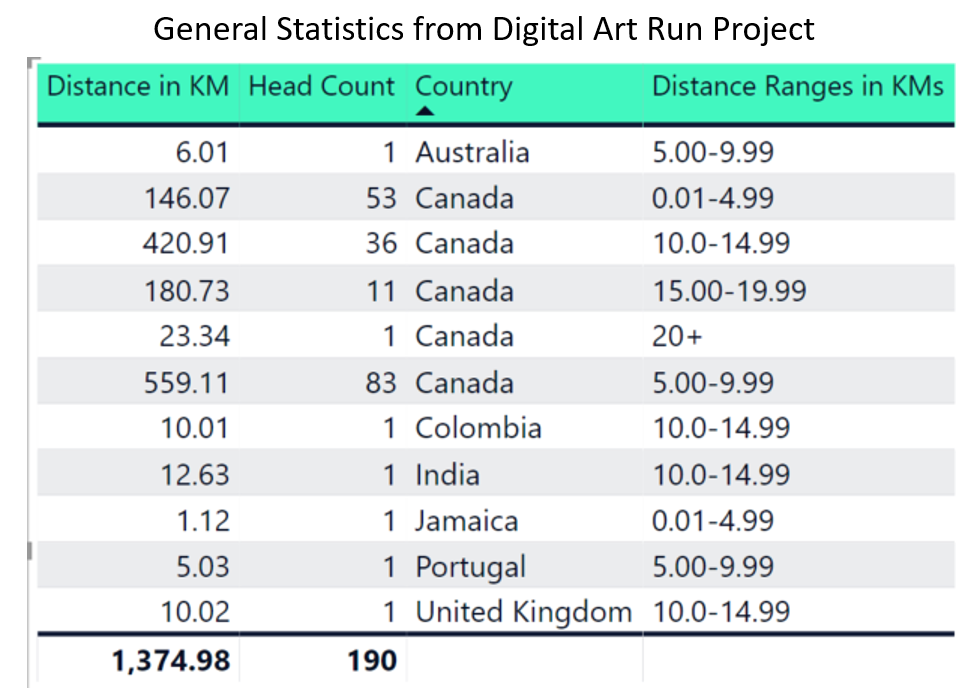 ---
Digital Art

Title: Distance, Elevation, Pace
Artist: Dekel Chui
This series was inspired by the feeling of running free. The runs where I choose my own adventure on the fly. Going far/near, high/low, or fast/slow. I'll think about it as I go. I looked at the data, connected the dots, and filled in the shapes. It's all seriously fun.


Title: Follow Me
Artist: Enna Kim
This piece explores the geographical locations captured during Wednesday's run, connecting runners globally from different parts of the world. The locations are highlighted in orange orbs, while the pink and blue lines connect the dots. I abstracted the world map through shades of blue, representing the dynamic runs collected on June 10th. Follow Me is a celebration of how running can be shared from all ends of the globe.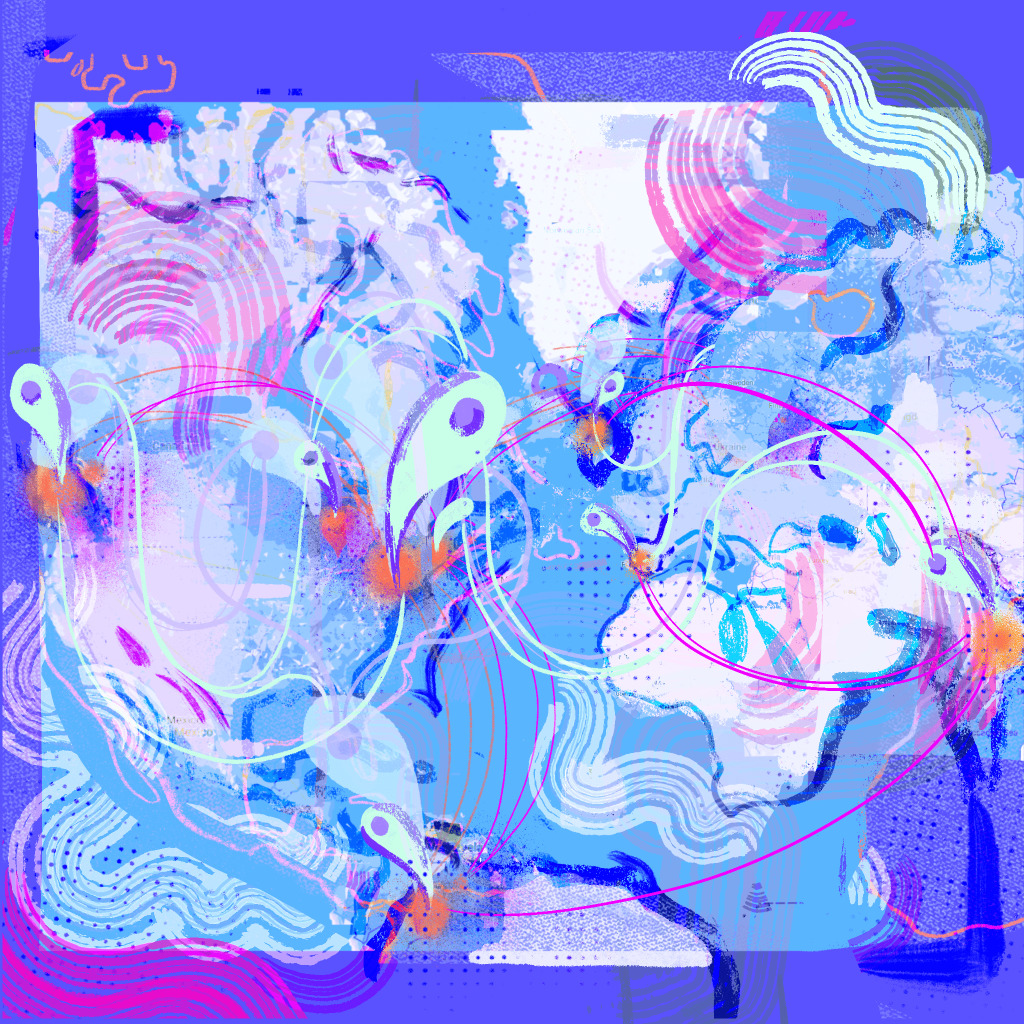 Title: Runner's Weave
Artist: Steve Shaddick
Medium: 3 minute software-generated loop (keep watching the anticipation builds within the first 15 seconds!)
When thinking about this project, I kept coming back to the "similar but separate" aspect, with so many people performing a similar action during a similar timeframe but separate from everyone else. I wanted the resulting piece to then bring the actions together in some unifying manner, ensuring that individual efforts were identifiable according to what they were, while maintaining a certain abstraction to help blend them together. Each bar is a single participant, where width is related to how long they ran/walked, length is their overall distance, animated speed is their pace, all arranged positionally around the screen as if the screen was an analogue clock. The result reminds me of a quilt, a virtual patchwork that only exists because people shared an activity at the same time.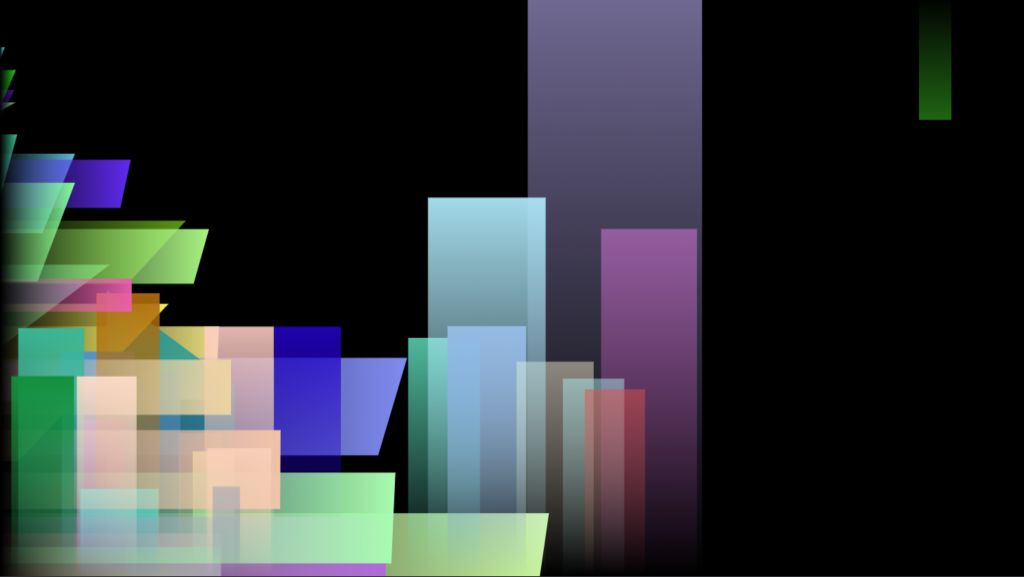 ---
Prize Winners
(Keep an eye out in your inbox from your gift cards sent by Stacey Norton)
$25 Running Room Gift Card
(Donated by Michelle Krezonoski)
Robert Almas
Poster Print of your own Strava art creation on Digital Art website Cartorion
(Value $40CND)
Mackenzie Rozga
Poster Print of your own Strava art creation on Digital Art website Cartorion
(Value $40CND)
Vicky Sinnott
High Res Digital Download of your own Strava art creation on Digital Art website
(Value: $7CDN)
Chris deKoning
High Res Digital Download of your own Strava art creation on Digital Art website
(Value: $7CDN)
Jaselyn Jarvis
Visit Cartorion to create your own digital art
Thank you to all of the Digital Art Data Contributors. As a gift to you, please accept this 20% DISCOUNT CODE to Cartorion Website: FOLDA20. The Discount is active for the entire month of June, 2020.
---
Digital Art Merge Data Contributors:
Alvin A
Robert Almas
Katie Anderson
Miles Anderson
Monique Anglin
Rina Atienza
honey B
Giulia Baracchini
Lisa Baron
Elaine Barrett
Danny Bates
Julie Bates
e Berglund
Biswa bhushan Dash
Paddy Birch
Andrew Bondoc
Kortnee Borden
Eleanor Bothwell
Paige Brawley
Amanda Bright
Jurgita Budraityte
Andrew Burke
Steve Callahan
Krista Carroll
Terence Carty
Will Cascone
Mike Caza
Holance Chan
Edwan Chan
Marilee Chase
Rejean Chiasson
Nick Childs
Dekel Chui
Richard Clark
Scott Clark
Federica Clerici
Trevor Cornelius
Alison Costa
Julie Cristinzo
Chloe Cydalise
Tim Dalton
Catherine De Giusti
Steven Diao
Megan Dickson
Devin Diddeniya
Sandra Do
Kathleen Dorsey
Asia Dwyer
Nicole Eckert
Shannon Elizabeth
Audrey F
Ali Farlow Troy
Cindy Gallant
Heather Gerrard
Paul Giamberardino
Francoise Gilbert
Tim Gillespie
Julie Gough
Simon Gowdy
Lindsay Grzelewski
Ian Hamilton
Keith Hargreaves
S. Harinath Harinath
Mister Hawaii
Graham Hawkes
Quinlan Hickey
Rachael Hill
Aaron Hoekstra
Christian Horoszczak
Jaselyn Jarvis
Owen Jeffrey
daniel jelani ellis
Amy Sarah Jenkins
Rebecca Jess
Martin Kaiser
Michael Kennedy
Fong Kikid
Ivan Kiss
Kim Krezonoski
Dad Krezonoski
Michelle Krezonoski
Richard Kuchinsky
Brad Lamb
Howard Lau
Henry Le
Heather Leatham
Jacq Lenko
Sam Lingwood
Lisa Liu
Marc Lozier
Matt Ma
Rick MacEachern
Zahraa Majed
Maria Marchese
Lindsay Marie
Ryan Matheson
Dominic Mayh
Kody Melo
Carsten Meyer-Jacob
Mardi Michels
Katherine Miskell
Dean Moratz
Alysia Morrow
Alistair Munro
Brandon Myketa
Pedro Nogueira
Stacey Norton
Nancy Norton
Ellsa Norton
Iyla Norton
Vanessa N.
Gabby Nunes
Colleen O'Brien
Paul O'Connor
Danielle O'Hanley
Joe O'Loughlin
Alexander Osorio
Dawn P
Madison Page
Michael Pewrczyszyn
Adrienne Phillips
Diana Planche
Julie Poirier
Chanele Polenz
Graham Porter
Chris Pot
Justin Rafton
Karin Rahim
Prashanth Reddy
Jill Relano
Ali Rimas
Allie Ross
Caroline Ross
Mackenzie Rozga
Tiffany Rusch
John Sadler
Kristina Sanglay
Carrie Scace
Melissa Shaddick
Steve Shaddick
Lauren Simmons
Vicky Sinnott
Jesse Smiley
Amy Smith
Matt Snider
Debbie Solymar
Tim Somerville
Tommy Sondy
Mitchell Starc
Antonio Stefanile
Michael Steven
Dave Strot
Shrutika Sukumar
Lisa Sun
Zoe Sweet
Thais Tambosi
Wing Tang
Mo Tarek
Christine Teotico
Karolina Tomaszewska
Riley van der Linden
Bryan Van Dongen
Gail Walker
Adam Walser
Beth Warnica
Michael Wheeler
Jimmy Willett
Daniel Williams
Jason Wilson
Colin Wilson
Monika Wizemann
Chris Womg
Andrew Yeung
Amelia Zheng
Angela Zilm
Veronika Zotochkina