Wavve: An Audio Captioning Tool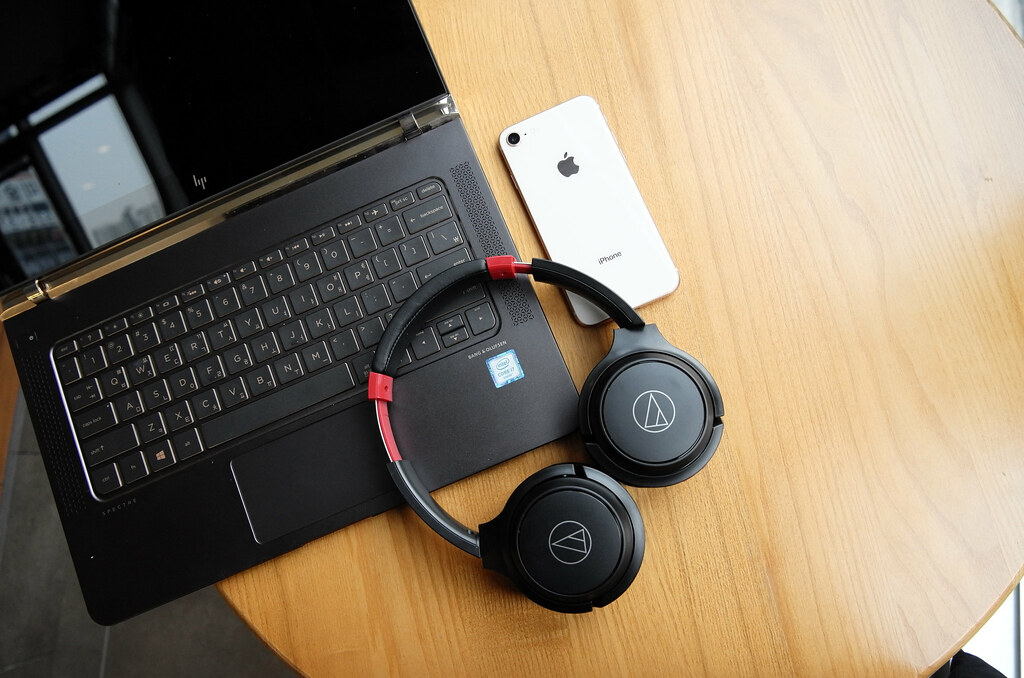 Wavve is an audio tool that allows you to take an audio file and convert it to an appealing video for social media. It also offers captioning! From their website, "Wavve gives you the power to leverage the audio content to create social videos that drive more reach & engagement around your brand & content".
If you've ever seen our new captioned Thought Residencies, our secret is out! Our awesome associate Tia Lunn uses Waave to caption and add visuals to the audio file.
PRICING
Waave offers four different pricing packages:
Free: Customize your own design, create 1 minute of video monthly, and wavve branding included in videos
Alpha: Generate 10 minutes of video a month, Rollover up to 20 minutes of unused time, No Wavve branding on videos
Beta: Generate up to 30 minutes of video per month, Rollover up to 60 minutes of unused time
Gamma: Generate 300 minutes of video per month, 48 Minute clip length
USING WAVVE
STEP ONE: Go to https://wavve.co/ and sign-up!
STEP TWO: Select the first design UNDER DESIGN and select "EDIT DESIGN". Here you can add a "waveform", or a visual representation of an audio file. Along with adding waveforms, you can also add progress bars and format videos specially for phone screens.
STEP THREE: Now you will automatically return to the create page and scroll down to "YOUR AUDIO" and select "UPLOAD NOW" and upload the audio file. Then select GENERATE VIDEO.
STEP FOUR: Find your video (should be the most recent on the list) and select ADD CAPTIONS.
STEP FIVE: On the next page, select CREATE TRANSCRIPT.
STEP SIX: Be sure to edit the captions to ensure there is the correct spelling and phrasing and timing. You can also select a font style for captions.
STEP SEVEN: Download this finished video for socials. TIP: it's a good idea to archive your videos for reference/visual continuity.
Trello: The Online Filing Cabinet

Trello is a free platform that can function as a digital filing cabinet. It is easily organized and can be accessed by a team of users so it may help your collaborators easily find documents online.
THE BASICS
Boards: are like shelves in your filing cabinet. At SWS we organize our boards by activities like "foldA", "grants", and "admin". On a free account, you can have up to 10 active boards.
Lists: are like file folders in your filing cabinet. At SWS we organize our lists chronologically and name them like we would a file in a filing cabinet, like "CCA Grant: March 2020" and "foldA marketing materials". There is no limit to the lists you can have in a board.
Cards: are like individual documents in your filing cabinet.
SET-UP
Step one: Go to Trello and input your email address.
Step two: Trello will then run you through a tutorial that invites you to get started with naming some boards, lists, and cards.
USING TRELLO
Step one: On the far right side of your board you'll see the capacity to + ADD ANOTHER LIST. If you want to add a card in the list, you'll see + ADD A CARD.
Step two: There are many different functions within the cards. To modify what your card is for, first select the card. Along the right side you'll see a few options, including:
Members: this allows you to directly tag members of your workspace in this document
Labels: this allows you to colour code cards for projects.
Checklist: this allows you to input a checklist into a card. This is especially helpful when writing grants, ensuring that you have collected all of the necessary material.
Due date: this allows you to select a due date for the card.
Attachment: this allows you to attach documents to cards.
Cover: this allows you to add a cover photo to a card.
Step three: You can rearrange cards by dragging them within a list or into another list.
Step four: You can see your other boards (or add new ones) by clicking BOARDS in the top left corner.
DIY Multi-Camera Livestreaming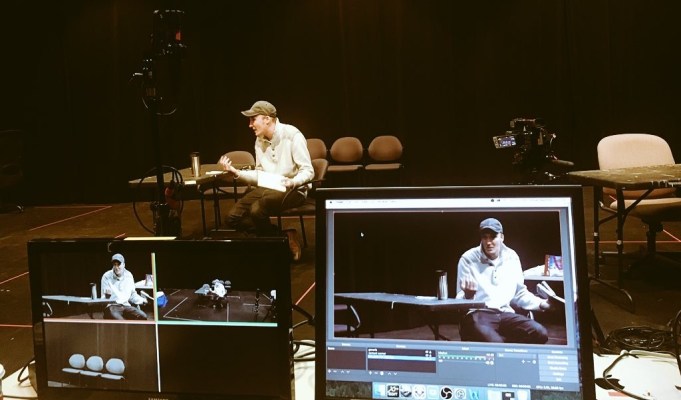 This page will walk you through a simple multi-camera livestream set-up that you can achieve from your home. All you need is:
ONE: A stable WiFi connection
TWO: 2-4 different IOS devices with cameras and the ability to connect to the internet. One of these devices will act as the "switcher", which helps you control the livestream, the other devices will act as cameras.
THREE: 2-4 device mounts (homemade or store-bought works)
FOUR: To download Switcher Studio on all devices. You will be asked to set-up an account. You will get the first two weeks as a free trial, then you can upgrade to keep your package. You can find pricing options here.
This set-up relies on a switcher software that allows you to utilize more than one camera lens, leveling up an at-home livestream in a major way! A switcher allows you to have more than one camera input and switch between angles in a livestream.
If you are interested in livestreaming from one single source to YouTube, Facebook, Vimeo or Instagram that's easy! Most of these platforms have user-friendly ways of livestreaming from a laptop camera or phone. For additional resources on livestreaming, check out this article by our friends at Howlround. This page will continue to grow with additional information on sound integration.
Please note: this guide is written using Switcher Studio on an iPhone, display commands may look different on different devices.
SET-UP
Step one: Set-up all three devices on mounts or makeshift mounts capturing three angles of what you'd like to shoot. Each device should also be connected to a power. Avoid putting cameras right in front of speakers as this will make the video unstable.
Step two: Turn off notifications on all devices by going to Phone/iPad Notifications: Settings > Do Not Disturb > Slide to ON
Step three: Ensure all three devices are connected to the same WiFi network. This is very important. This style of livestreaming will only work if all devices are connected to the same WiFi network.
Step four: Open Switcher Studio on all devices. You may be asked to input your account information.
Step five: On whatever device you'd like to use as the switcher, USE AS SWITCHER. On other devices select REMOTE CAMERA MODE. They will show you a number that starts with rlcc://
Step six: Go back to your switcher device and beside the square that says WELCOME TO THE SHOW, select the little black square with a plus sign or on your iPhone, select the VIDEO CAMERA icon along the bottom. Under SWITCHER STUDIO select CAMERAS. Under SOURCES ON YOUR WI-FI NETWORK, select OTHER.
Step seven: Enter the rlcc:// numbers you see on the camera devices into your central control. You may be prompted to "accept" on cameras.
Step eight: Ensure the central control device is set to DIRECTOR MODE by selecting the box with an arrow on the bottom right corner, scrolling to the bottom where it says RECORDING and ensuring Director Mode is slid on.
Step nine: Once all three devices are connected, use the central control to begin by tapping the red circle record button in top right corner.
MULTI-CAMERAS
When using Switcher Studio while livestreaming, you can move between more than one camera in your stram. You do this by selecting the different feeds you see in your studio on your central control device. If there is a red square around a feed, that means it is live and a blue square means you are preparing your next feed. You can also control the zoom remotely by using the yellow magnifying glass along the left side.

SOUND
If you are working in a small space with good acoustics, you can try to use your device microphones but this is not recommended. If you have an external microphone for your device, that will improve the sound quality immensely.
In order to use an external microphone with your livestream set-up, you will require an I- Rig type system. Once you have connected an external microphone to the I-Rig system to the switcher device (not the cameras), you will need to select the audio input (it may say "external microphone" or I-Rig) in Switcher Studio. You should also make sure that whatever microphone you're using plugs into a ¼ jack.
If you are planning to livestream a multi-media show with a sound mixer, your best option is to pull all sound directly from the mixer or a speaker when available. Using something like an I-Rig is cost effective and will allow you to broadcast the sound directly from the sound mixer to your live stream audience. The mixer or speaker has to have an available output and outputs will typically be 3 prong female XLR or ¼ inch jack. In order to plug into the switcher device you will need to plug into the I-Rig which requires a ¼ inch jack so you may need an adapter. Always double check all inputs and outputs before the day of live streaming.
If you're working on a site, always get permission from the on site sound tech before plugging anything into their system. Make sure you have selected the correct audio input on the switcher device once everything is connected. You can test the level by pulling up your livestream on another device.
LIVESTREAMING
Switcher Studio will allow you to livestream to Facebook, YouTube, LinkedIn Live, Twitch or a Custom RTMP. Before going live, we recommend doing a private stream to test audio and video levels.
Step one: Select the square with the arrow coming out of it in the centre along the bottom of your screen.
Step two: Select which platform you'd like to use for livestreaming. Then follow the prompts to set up your account.
Zoom 101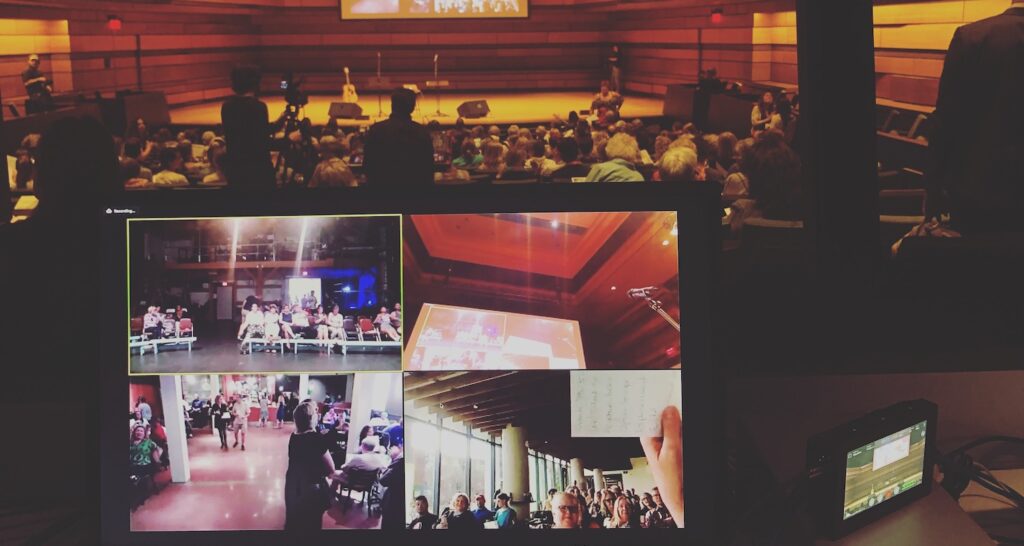 Zoom is a video conferencing tool that allows for audio and video conferencing online. You can also use Facetime, Google Hangouts, or Skype but we've had the best luck with Zoom.
Zoom calls can host up to 100 participations. If you are using a free Zoom account, there is a 40 minute time limit on meetings with more than 2 participants. If you want to upgrade to house more participants in group meetings, you can find plans and pricing packages here. Online, Zoom also has additional resources available.
We have used Zoom to conduct meetings across distance and to facilitate a cross-country choir with Choir!Choir!Choir! at foldA in 2019.
SET-UP
Step one: Go to the Zoom website and in the top right corner select SIGN UP, IT'S FREE and confirm your email.
Step two: After you've confirmed your email, you'll enter the Zoom platform.
Step three: Along the left side of the page under personal, you'll see:
Profile: this is basic profile information. This will also allow you to integrate your GCAL.
Meetings: this is where you will schedule upcoming group meetings.
Webinars: this is where you can host large scale group information sessions.
Recordings: this is where you can access recorded meetings.
Settings: this is where you can adjust settings for your Zoom profile.
Step four: You will also see ADMIN which is where you can add users to your profile, assign roles, and adjust billing information.
SCHEDULING A ZOOM CALL
Step one: Along the left side, select MEETINGS then the button that says SCHEDULE A NEW MEETING.
Step two: Name your meeting for the appropriate topic, schedule a time (be mindful of timezone) and select the duration. If the meeting is a private meeting, you can require a password, otherwise it's best to uncheck that.
Step three: Be sure that video and audio options are turned ON.
Step four: Decide on your MEETING OPTIONS.
Step five: Select SAVE.
Step six: To invite attendees, scroll down to INVITE ATTENDEES and select COPY THE INVITATION. Be sure to copy this entire invitation when sharing this link.
Step seven: If you have an integrated work calendar, you can also select ADD TO GOOGLE CALENDAR.
ZOOM ETIQUETTE
Mute your microphone if you aren't speaking! With many different people on a call at once, sometimes additional background noise can make it difficult to concentrate. When your microphone is muted, simply press down on your space bar and hold it down to unmute your mic. When you're done speaking, depress the space bar and your mic will be muted again.
Use headphones with a mic built in! This often helps with a clear a crisp sound.
Get permission before recording! If you are recording a meeting, it's important you ask everyone for permission first.
Use the chat bar! If you want to make a note but don't want to disrupt the person speaking, use the chat function in a zoom call!
Have party crashers? The good folks at Zoom have released a blog entry on keeping people from crashing your event. Read more.
Digital Resources: Taking the IRL to URL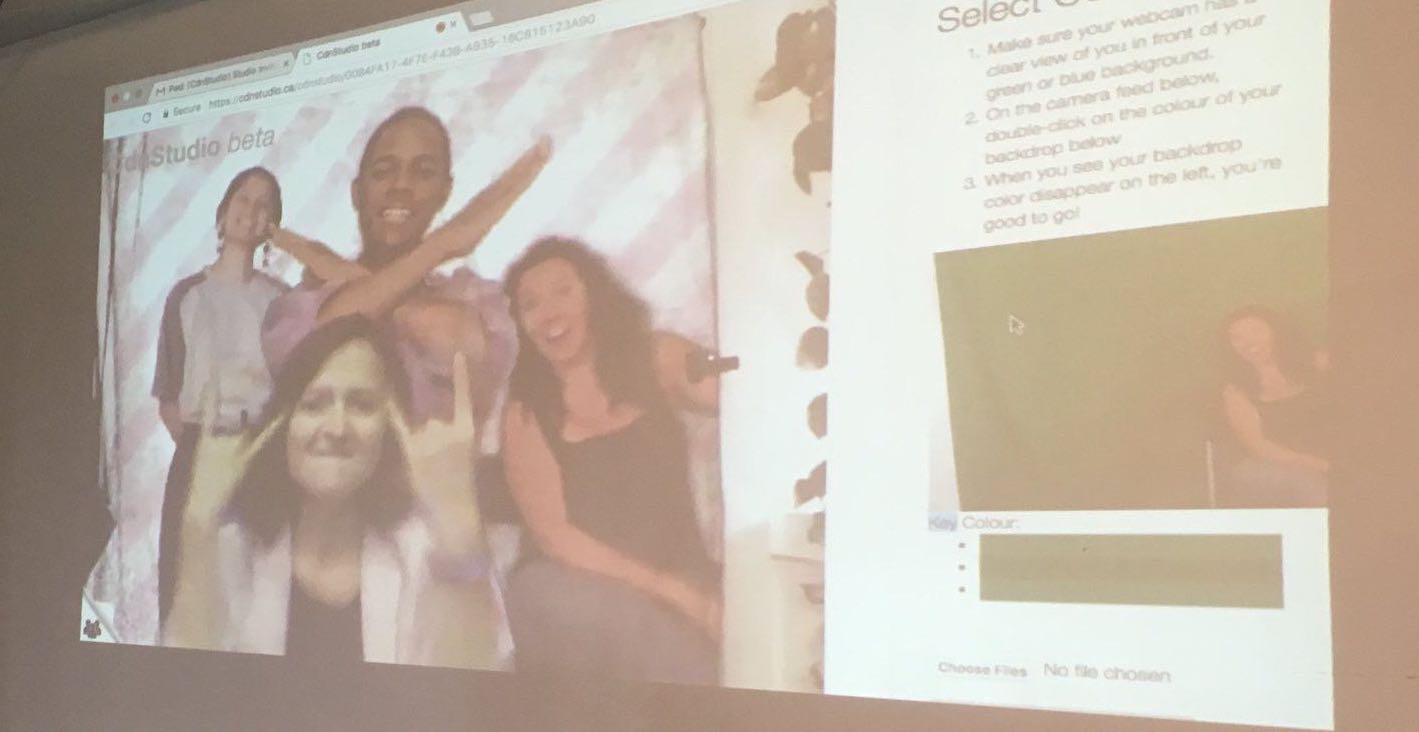 SWS has learned a lot over the last 7 years about collaborating digitally across distance. We've experimented with online platforms that already exist and we've built our own, but most importantly, we've learned lessons we want to share with you in this precarious time.
We are all looking for ways to connect while rapidly transitioning our lives to a digital first approach. While the digital is not a substitute for life (and should not be treated as one) it does offer incredible tools for connection and collaboration. This is an unprecedented time but we are eager to work with the #cdncult community to learn new ways of working together…from our living rooms.
Over the coming weeks we're going to walk you through some of our current systems in hopes you can adopt them to your communities, networks, and organizations.

Here you'll find how-to guides for:
DIY Livestreaming: multi-camera livestreaming with a free app and Apple devices
Slack: a collaborative communication tool for teams
Zoom: a video conferencing system
Trello: an online filing cabinet
We know from foldA that many folks have already adopted these systems and are well versed in how they work. Stay tuned in the coming weeks as we continue to update this page with additional resources as we all level up together.
If you would rather talk to someone to help you set up these systems, SWS is offering consultation with Mo Horner and other members of our team. Mo has worked with SWS for the past 3 years as foldA's Digital Content Producer and she's a self-proclaimed #slacklord. We kindly ask that you read these how-to guides before you message us but we'd love to talk to you.
We are sharing these guides online for free but if your organization has the means to offer a donation for consultation, we'd really appreciate it! ? stay safe #cdncult
Slack 101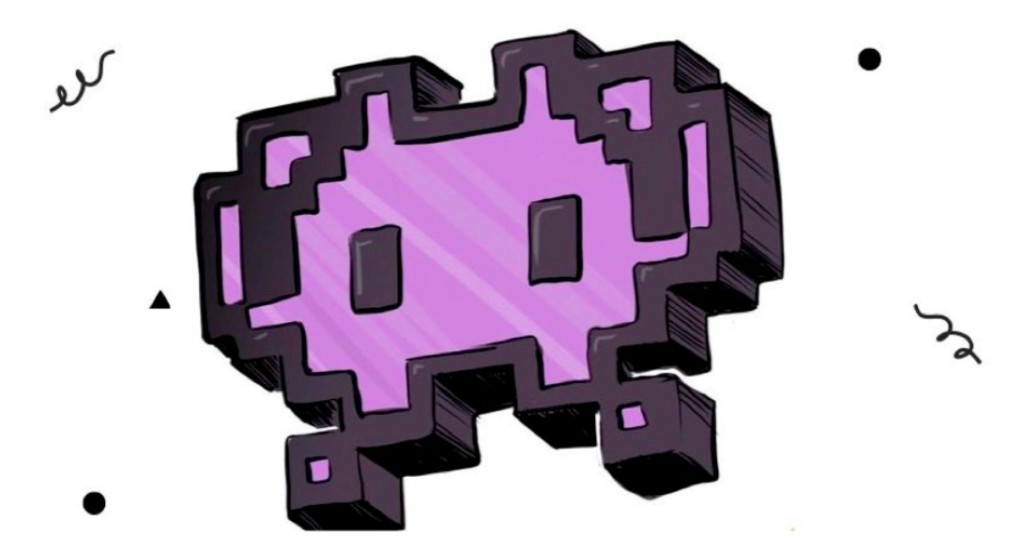 Slack is a collaborative messaging service that helps alleviate email fatigue, encourages digital collaboration, and clear communication between online teams. SWS has been relying on Slack to collaborate across distance since 2013. We've used it to run a company with offices across the country, facilitate foldA with every artist, volunteer, attendee, and staff member in a common workspace, and to stage manage a show in 4 cities at once.

Slack allows users to separate work/personal communication tools, encourage inter-team collaboration and clear communication, organize conversations easily and alleviate email overload.
This page will walk you through the process of creating a workspace, some basics about Slack, and offer some playful tips for becoming a #slacklord. If you've got any questions, slide join the FOLDA workspace and slide into @mariah.horner's DMs or you can connect with SWS.
SLACK BASICS
Channels are chatrooms dedicated to certain topics. This is how you will communicate with members of your team. Channels can be project or team specific, but it is worth considering how you would like to organize your Slack workspace from the get-go.
Direct messages are for private communication.
Use threads and emojis! In order to keep communication clear, if you read a message, you can select the message and add an emoji below. If you are in a conversation with someone on slack, use a thread rather than an additional post. Click the message you are responding to and select "start thread".
GETTING SET-UP
Step 1: Visit the Slack website. If you'd like to connect with a Slack representative directly, you can do so online.
Step 2: In the top righthand corner, select the purple button LAUNCH SLACK. Then select CREATE A NEW WORKSPACE. Follow the prompts to confirm your email address.
Step 3: After confirming your email address, you will begin to create a workspace. Slack will ask you "what is the name of your company or team" which will become the title of your workspace is and "what's a project your team is working on" which will become the name of a channel.
Step 4: Slack will then ask you to invite teammates through email. You can invite a few here and you can also add members later on. You will also see a link that says "Get an invite link to share". This way you can share your workplace through a link instead of an email invite.
Step 5: You will then be invited to see your first channel. We'll explain below what a channel is. For now, select SEE CHANNEL and you will be invited to explore Slack through a tutorial helping you set up your workspace by messaging your channels, inviting contacts, and selecting a display name/password.
Step 6: For easy access on the go, you can instal the free Slack app on your Smartphone (iPhone, Android, etc.). You can also download the app on your desktop if using an Apple Mac or Windows. If you are not able to download Slack, you can still use a browser on your phone or laptop/computer to access the website and login.
CHANNELS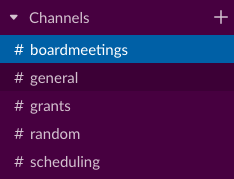 Think about Channels as chatrooms dedicated to certain topics or departments. This is how you can communicate with your team on specific topics, like email threads.
Step 1: Once you're setup with Slack you will automatically be added to the #general channel, #random channel, and whatever channel you named during set-up.
Step 2: By clicking the + symbol next to the word Channels you can explore the other available channels in your workplace and add yourself to the relevant teams. If you are the workplace admin, you can add other channels. Some channels that may work for arts organizations include #grants, #scheduling, #fundraising and #boardmeetings.
DIRECT MESSAGING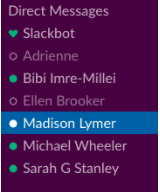 You can direct message anyone privately in your workspace.
Step 1: Along the left side of your screen, under "Channels" you'll see "Direct Messages", select the + to create a new direct message.
Step 2: Type in the name of the person you'd like to connect with, send them a message. You can add more than one person to a direct message if needed.
NOTIFICATIONS
Slack notifications are entirely customizable and have many options including the frequency of notifications and type of notification you receive. Note that Slack does not always automatically send you notifications so it's important to check and see that you are getting notifications.
Step 1: From the desktop version click on the bell to customize your notifications. From the app select the three dots next to the magnifying glass and then select the 'Do Not Disturb' bell.
Step 2: From both these locations you now have the option to temporarily snooze notifications. This is useful when you would like to work without disruption temporarily or over the weekend. Protip: you can also trigger this by using /dnd (TIME). Example: '/dnd Monday' would snooze notifications until the following Monday
Step 3: In the web version select 'Do Not Disturb Schedule' and in the app select the three dots> settings>Do Not Disturb. You can then input your scheduled hours as to when you do not want to be notified. Note that this will cause notifications to turn off at the same time every day.
Step 4: In the web version scroll up to customize notification types and down to customize notification sounds. In the app go back to settings and select 'Notifications'. Here you can select if you want to receive all messages or only messages specific to you.
Step 5: If you're feeling extra adventurous you can customize your notifications to each channel. This is most commonly used to mute a channel like 'Random' and receive all notifications about your team specific channel. To do this, select the settings wheel in the web version or click on the channel name in the app. You will then be able to customize your preferences for that specific.
Note: Notification preferences are a matter of personal preference and should be set up in a way that suits your workflow best. If you're eager to stay on top of all the Slack chat in the beginning leave your notifications to 'All New Messages', if you're worried about adding another workspace to your life try testing 'Direct messages, mentions, and keywords'.
OTHER SLACK HACKS
Think about Slack like you would facebook messenger, or group messaging on an iPhone. It's an informal and collaborative way to connect both on a browser and on your mobile device.
Tag people in conversations! You can tag people in conversations by using @theirname.
Format your messages! To bold text *bold me* and to italicize text _italicize me_.
Add gifs! When you are in the desktop browser version of your Slack workspace (yourworkspacename.slack.com), select the workspace name in the top left corner and select SETTINGS AND ADMINISTRATION > MANAGE APPS. Select BROWSE APP DIRECTORY. In the search bar, type giphy. Then along the left, select ADD TO SLACK, then ADD GIPHY INTEGRATION. Note: only workplace admin can authorize the app integration.
Add custom emojis! From your desktop browser version of your Slack workspace (yourworkspacename.slack.com), open the emoji bar by clicking on the smiley face icon in the message field. Select ADD EMOJI then Upload Image to select a file. Select Upload Image. Enter a name for your emoji, then click Save. Note: only workplace admin can add custom emojis.